The production process of Ferriera Valsider rolling mill is divided into two different production lines: heavy plate mill and coil mill.
QUARTO PLATES
Slabs
The raw material for both plate and coil rolling mills is obtained from continuous casting slabs with low to medium carbon content. The slabs are mainly shipped from Azovstal Iron and Steel Works. Slabs are stored at the plant's yard and, after being flame cut to required dimension, they are moved to the reheating furnace.
Reheating Furnace (BENDOTTI)
The furnace is provided with a fully automatic heat control and for each steel grade a dedicate heat model is used. Ferriera Valsider reheating furnace has a capacity of 120 t/h and measure 24500 mm (length) for 10800 mm (width).
Descaling
To obtain a good superficial quality of the final product, scale and oxides must be removed from the semi finished (slab and transfer bar) product surface.
Once heated to the required temperature, scale is removed from the surface at 270 bar in special hydraulic pressure water box, then the slabs reach the duo rolling stand to be rolled.
Duo Standing Rolling Mill
The duo mill has a rolling force of 22000 kN and a motor power (2 twin drive) of 3000 HP.
Work rolls dimension are 1100 mm in diameter and 3200 mm in table.
The number of passes through the mill as long as plate thickness and other dimensions are controlled by automation system.
The stand is used as rougher and finishing train.
Hot Levellers
The plates pass through a levelling machine with levelling force of 10000 kN
Cooling Bed
This equipment is used to cool the plates from top to bottom with controllable quantities of water, in order to reach the required strength and toughness after rolling.
Then the plates are sent to the cooling bed areas with an optimally adjusted surface.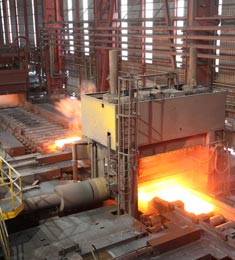 Heat treatment
For some part of our plate production (i.e. C45, S355 qualities) we perform an heat treatment in order to obtain the delivery condition requested by the customer.
Distension (620° max) and normalization (910° max) can be executed in our heat treatment furnace.
Plates cut to length (SOITAAB, SALDOTECNICA)
If requested, for plate cut to length two semiautomatic oxycutting machines are working, one used for thin plates and the other one usually for thick plates.
Sand blasting machine
If requested roll and mill scale is removed from the plate surface with sand shot.
HOT ROLLED COILS
Slabs
Reheating Furnace (BENDOTTI)
Descaling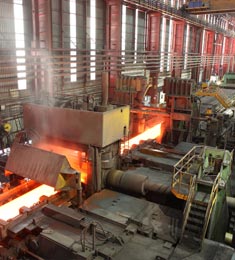 Duo Standing Rolling Mill
Slab is cut in a transfer bar with thickness and length depending on quality and final weight of the product.
Tunnel furnace
For coil production, the temperature of the transfer bar must reach the rolling value using a tunnel furnace with a roller transport equipment.
The furnace has a length of 64 m and width is 1700 mm.
Internal temperature can reach 1230°.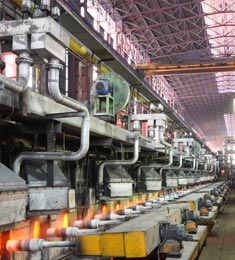 Steckel Mill (DANIELI)
After coming out from tunnel furnace, the transfer bar is rolled in a steckel mill supplied by Danieli, with a roll force of 30000 kN.
Thickness and tolerances are controlled during the whole rolling process by a RX device.
Down coiler
Downstream of the Steckel Mill, HRC are cooled through showers along the run-out table to give them proper mechanical characteristics.
Then products are rolled up and finally discharged with a walking beam system to put them into the warehouse ready for delivery.